Take Back Program from Caritas Armenia and Inditex
Caritas Armenian Charitable Public Organization (PJSC) www.caritas.am and Inditex Group (Zara, Zara Home, Massimo Dutti, Bershka, Oysho, Pull & Bear, Stradivarius brands) have been organizing clothes collection campaigns since 2019. Return program for socially vulnerable families. In the area of ​​the shops of the above brands there are boxes for collecting clothes and shoes, where anyone can donate clothes that do not suit him and give her a second life.


Where can I deliver or donate clothes?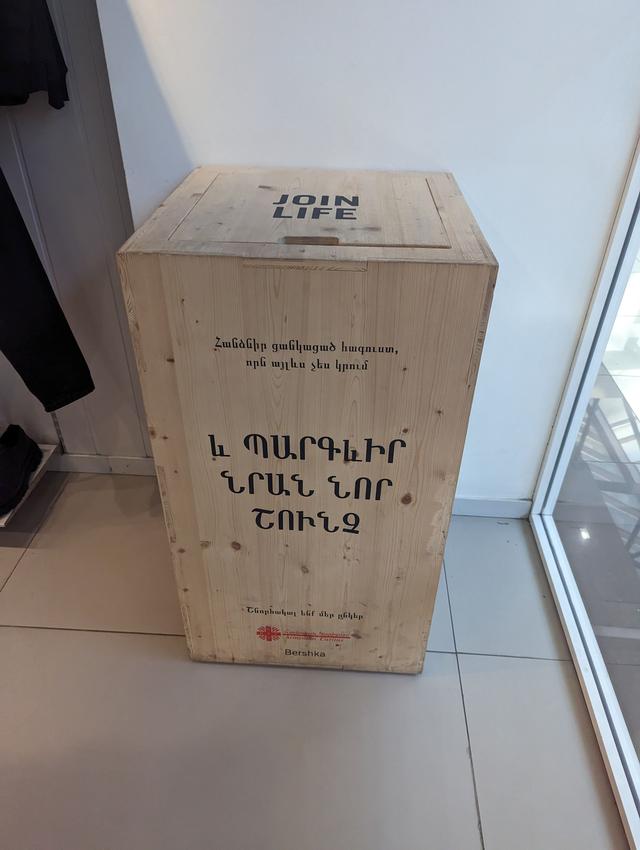 If you are in any of the stores and cannot find the containers, please contact any of the store employees and they will be happy to help you.
What can be transferred or donated and what is most needed?
Clothes, shoes, accessories
What can't be donated?
Underwear
Soiled and heavily worn items that cannot be reused
Collected in recent years:
2019 - 605 kg,
2020 - 330 kg,
2021 - 970 kg,
2022 - 1728 kg of clothes, shoes and accessories, which, after double sorting, were distributed to needy families.
Anyone who has clothes, shoes or accessories that are no longer in use, but are fit for use, can participate in the program. The beneficiaries of the program are the beneficiaries of the program and their family members included in various Armenian Caritas programs, as well as vulnerable families who are not beneficiaries who applied to Armenian Caritas.
Attention: Clothes collection events are held only in Yerevan.
You can also find stores - collection points - through the yrvn.am map by selecting the "Textile" filter.